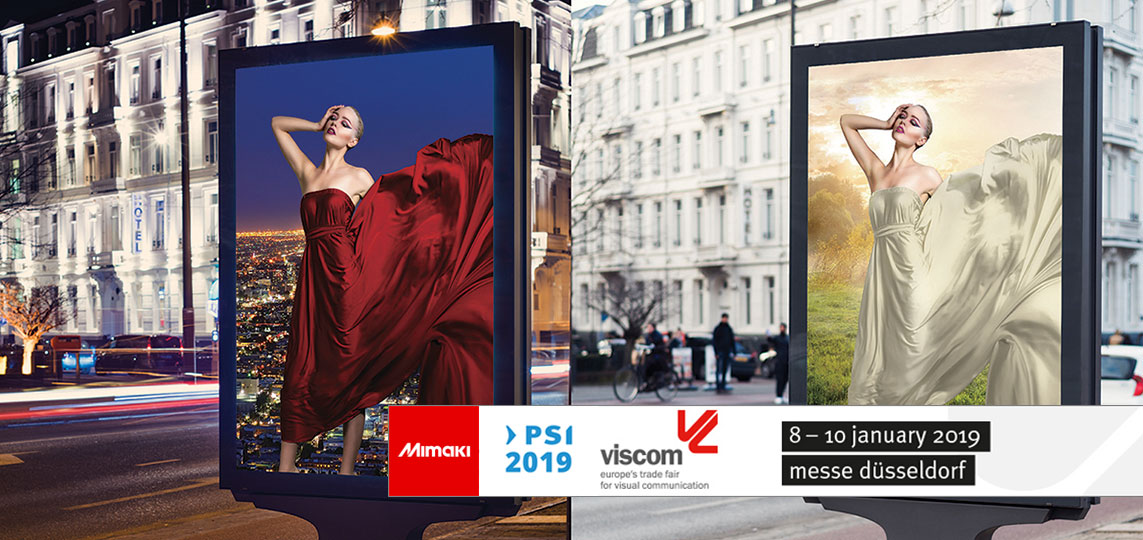 Highlights include on-demand and personalized 360-degree direct-to-object printing, technology for striking backlit signage as well as the ability to print different designs on both sides of a substrate.
Mimaki Europe today announces that under it's 'Join the Experience' joint show theme, it will exhibit its portfolio of market leading UV flatbed, solvent and sublimation printers at PSI and Viscom 2019 (8-10 January 2019 – Dusseldorf, Germany). Designed to enable profit generating applications across the sign graphics, promotional products, industrial and textile markets, visitors will see a host of print solutions designed to suit a wide range of businesses – but with the flexibility to support their needs today and tomorrow.
As one of two specific highlights of the Mimaki booths, visitors to Viscom 2019 will see the white ink capability for the highly popular Mimaki UCJV300 sign and graphics printer. This feature enables enhanced backlit applications for striking graphics and additional revenue opportunities. Visitors to the Mimaki booth at PSI will also see 360-degree direct-to-object printing from its Mimaki UJF Series, enabling high quality and personalized print onto bottles, cylinders and a wide range of promotional items.
Danna Drion, Marketing Manager, Mimaki Europe comments: "At Mimaki, our worldwide team is committed to customer service and providing products that the market wants and needs. To ensure we achieve this, not only do we spend roughly 7% of our annual revenue on R&D, but we also have a team of over 120 people dedicated to product development."
"As such, we go to PSI and Viscom 2019 with packed booths demonstrating some of the markets fastest, highest quality and most advanced print solutions available, almost anywhere. So, whether you're a mature sign shop, a promotional product supplier, a start-up textiles printer, a seasoned marketeer or indeed a retail manufacturer, we have products to suit all your requirements."
PSI (Stand 10C11)
At PSI, Mimaki will show three of it's direct-to-shape digital printers designed specifically for the international promotional products market. It will also present a range of creative promotional products in various materials including glass, plastic and (faux) leather – further demonstrating how advanced digital printing enables value adding and profit driving personalization and versioning capabilities:
Mimaki UJF-3042MkII – Market leading productivity and ease of use for on-demand, direct
to object printing up to 420mm wide. Shown with the optional 'Kebab' capability plus white ink, visitors to PSI will witness 360-degree printing onto glass and plastic bottles.
Mimaki UJF-6042 MkII – Double the print width and shown with an optional 'Ionizer' feature, as well as clear, white and primer inks, this solution prints onto products 153mm (6in) thick. At the show, it will demonstrate amazing print quality and colour capabilities on matte black notepads.
Mimaki UJF-7151plus – With a maximum print size of 710mm x 510mm, this state-of-the-art high quality and high-performance printer is ideal for wide range of promotional products, ID cards and personalized gifts.
Utilising Mimaki's renowned high build quality for ultra-reliability, high speed and rich colours, the company will demonstrate to visitors of both shows how they can 'print and profit' using Mimaki technology.
Viscom 2019 (Stand 14E55)
At Viscom 2019, Mimaki will display breath-taking print samples from customers around the world, as well as provide live demonstrations from nine of its solvent, UV and sublimation printers for applications in three distinct markets – Sign Graphics, Industrial Products and Textiles. Specific Mimaki show highlights include:
Mimaki UCJV300-160 and UCJV300-75 (UV integrated printer/cutter) – The award-winning sign and graphics solution will feature a white ink capability enabling four-layer printing to create transformative graphics for backlit applications. Perfect for applications using transparent film, the printer also enables five-layer printing for producing different designs on both sides of the substrate, simultaneously. These Mimaki capabilities provide new value adding and profit driving applications.
Mimaki TS55-1800 – Ideal for interior fabrics, sports and fashion apparel, flags and tapestries, the TS55-1800 Series offering continuous operation, is designed for users that demand high productivity and high-quality print. Featuring a plotter roll for small runs or a mini jumbo roll for long runs, the TS55-1800 Series has the flexibility to adapt to changing business needs.
"Exhibiting at PSI and Viscom 2019 is a great way to start a New Year, and we look forward to meeting visitors in Dusseldorf," concludes Drion.